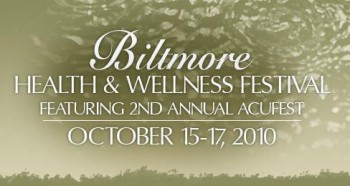 The Biltmore Health & Wellness Festival
Friday, October 15 to Sunday, October 17, 2010.
The Biltmore Hotel
1200 Anastasia Avenue
Coral Gables, Florida 33134
Website.
organic food and wine tastings,
community organizations,
experience auricular acupuncture,
yoga, tai chi and qigong demonstrations,
holistic nurses doing energy healing,
acupuncture demonstrations,
organic food and wine tasting
acupuncture history, theory & modern research
Total Performance Golf
women's health
organic & healthy cooking,
organic lifestyle,
Biltmore Culinary Academy Ongoing Culinary Demonstration
acupuncture facial rejuvenation
modern acupuncture techniques & equipment
modern Chinese herbal remedies
Celebrate the health of the individual, family, community and planet.
It is our great pleasure to welcome you to this year's Biltmore Health & Wellness Festival featuring 2nd Annual Acufest. Inspired by the overwhelming response to last year's inaugural event, this year's Festival has grown into a three-day community wellness celebration. Individual, family, community and planetary wellness will be explored in a series of exciting events, beginning with Friday's Women's Health and the Environment Conference, workshops with renowned holistic health experts on Saturday, and live entertainment events each evening. The three days will culminate with Sunday's Acufest, an all-day celebration, featuring dozens of exhibits and interactive workshops with national and local health educators. One of the highlights of Acufest: A Festival of Healthy Living is our very popular organic food and wine tasting, this year featuring many of South Florida's top chefs. We look forward to seeing you and enjoying this year's Festival with all of you!