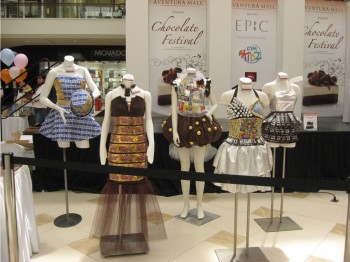 Indulge In Delicious Confections At Aventura Mall's Chocolate Festival
Sunday, October 10 from 12:00pm – 4:00pm
Aventura Mall
19501 Biscayne Boulevard, Aventura FL
Satisfy that ever-present sweet tooth at Aventura Mall's Chocolate Festival on Sunday, October 10 from 12:00pm – 4:00pm. A chocoholic's dream, the mall's Center Court will showcase a decadent display of delicious chocolate morsels prepared by some of South Florida's most popular restaurants.
A true celebration of all things chocolate, visitors can tantalize their taste buds by purchasing mouthwatering treats from participating restaurants, while admiring a runway show featuring the latest in chocolate-inspired fashions designed by students from Miami International University of Art & Design beginning at 2pm. Children can play with their food without a word from Mom and Dad at the kid's chocolate station, and raffles offering fabulous prizes will be held throughout the event.
Guests can be a part of the Chocolate Festival by purchasing tickets for $1 each or 13 tickets for $10. The tickets can then be traded in to vendors for the chocolate treats. Proceeds from the Chocolate Festival benefit the Children's Craniofacial Association.
Participants in Aventura Mall's Chocolate Festival include: Chef Allen's, Grand Lux Café, Schakolad Chocolate Factory, The Grateful Palate, Porto Vita, Fairmont Turnberry Isle Resort & Club, Turnberry Ocean Colony, Alisa's Painted Bistro, Florida International University School of Hospitality, Chocolate 4 Charity, Nordstrom Café Bistro, Miami International University of Art & Design, Ocean Prime, We Take the Cake, Godiva, and Starbucks.
Aventura Mall's Chocolate Festival is sponsored by Gym Kids, New York Bakeries, Norwegian Cruise Line and Turnberry Ocean Colony.
South Florida's #1 shopping destination among locals and international visitors, Aventura Mall ranks as one of the top five highest grossing malls in the country in sales per square foot. The 2.7 million square-foot multi-level mall is home to Nordstrom, Bloomingdale's, Macy's, Macy's Men's Home Furniture, JCPenney and Sears, 300 stores and restaurants, a 24-screen movie theater, and an artist-designed interactive playground, Rainbow Valley. Located at 19501 Biscayne Boulevard, the mall is open Monday through Saturday, 10 a.m. to 9:30 p.m., and Sunday, Noon to 8 p.m. For more information call (305) 935-1110, visit the website at www.aventuramall.com.
Thank you for using Soul Of Miami!