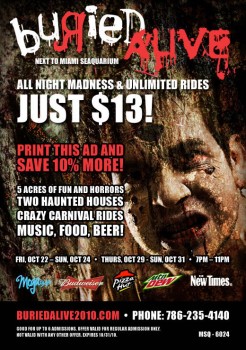 Buried Alive
4400 Rickenbacker Causeway,
Key Biscayne, FL 33149
Across from the Miami Seaquarium
Fri, Oct 22 – Sun, Oct 24
Thurs, Oct 28 – Sun, Oct 31
7pm – 11 pm
$13 all night and unlimited carnival rides
www.buriedalive2010.com
Experience the suffocating sensation of being buried in your own tomb. The maggots and flesh-eating worms aren't your only companions. Your worst nightmares live down here, too. This Halloween, we're gonna scare the (BLEEP) out of you!
South Florida's most horrific haunted houses
The insanity of unlimited carnival rides
Food, music and beer (you'll need a few after this one)
On the "field of screams" next to Miami Seaquarium.