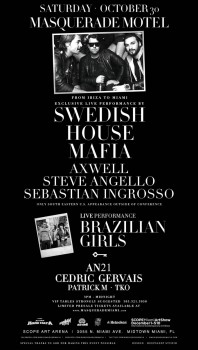 From Ibiza To Miami
Masquerade Motel
Scope Art Arena, Midtown Miami, FL
Saturday, October 30, 3:00 PM – 12:00 AM EST
Starring the Swedish House Mafia
Axwell, Steve Angello & Sebastian Ingrosso
Also a Live performance by Brazilian Girls
Additional talent:
AN21
Cedric Gervais
Patrick M
TKO
Click Here To Purchase Tickets & For More Information
Nothing is what it seems in this Motel. From the outside you could confuse it with a hotel on sunset strip or highway 99…frequented by movie stars behaving badly, bank robbers on the run and couples catching an hour between marriages..
This is no ordinary motel. As you unlock the door the low hum of a bassline hits your ears..and the flashing of lights push themselves under the foot of a door down the darkly list corridor and is broken by the shapes of bodies dancing. As you walk into the lobby a broken neon sign flashes the house rules…
MASKS ON PLEASE!
As you pick up the mask and place it on your face it feels warm..like it is connected and your body starts to relax and feels so awake you feel you will burst.
As you near the door your subconscious realizes there are other rooms to the left and right. Dark shadows move and yet you feel no fear. Something inside you knows every element of what happens in this hotel is about pleasure and euphoria. You set your mind to explore every room.
As you stand in front of the door…..your hand poised to turn the handle….your heart pounding ….the door opens of its own accord welcoming you in. The heat of the room hits you like a warm embrace, the music covers you…loud and yet clear….synced with your heartbeat as the room moves together as One.
The feeling is strange, whilst everyone is concealed their eyes connect with you and it's like you know everyone in the room, perhaps you do…
Everyone there together to share the feeling of being behind the doors of the Masquerade Motel and the feeling anonymity and mystery brings…coming together as one to perform in the best show on earth…
A 54,000 Square foot indoor arena is being built just for this event! This promises to be the most attended Masquerade and Halloween Extravaganza in South Florida.
Limited Early Bird, General Admission and Private Open Bar Tickets are now available.
VIP TABLES INFO: Please email Plushvip@ymail.com or call 305.321.3050