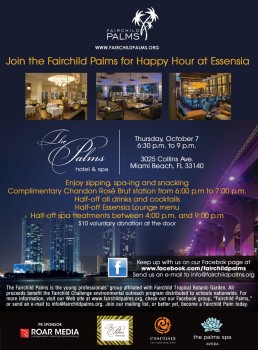 Join the Fairchild Palms for Happy Hour at Essensia at the Palms Hotel and Spa, Miami Beach.
Thursday, October 7 @ 6:30 p.m. to 9 p.m.
The Palms Hotel & Spa
3025 Collins Avenue
• Enjoy sipping, spa-ing and snacking.
• Complimentary Chandon Rosé Brut station from 6:00 p.m. to 7:00 p.m.
• Half-off all drinks and cocktails
• Half-off Essensia Lounge menu
• Half-off spa treatments between 4:00 p.m. and 9:00 p.m.
• Reduced valet parking
• $10 voluntary donation at the door.
The Fairchild Palms is the young professionals group affiliated with Fairchild Tropical Botanic Garden. All proceeds benefit the Fairchild Challenge environmental outreach program distributed to schools nationwide. For more information, visit our web site at www.fairchildpalms.org, or check out our Facebook page or send an email to info@fairchildpalms.org.
Join our mailing list, or better yet, become a Fairchild Palm today.