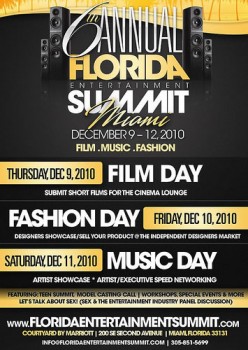 6th Annual Florida Entertainment Summit
Dec 9-12, 2010,
Courtyard by Marriott
200 SE 2nd Avenue Miami, FL 33131
www.FloridaEntertainmentSummit.com
The Florida Entertainment Summit (FES), in its 6th Year, is one of the most important entertainment networking events of the year featuring a Fashion Day, Film Day & Music Day. The objective of this entertainment industry & consumer driven annual event is to provide marketing and networking opportunities to entertainers and entrepreneurs. This includes the opportunity to network with influential entertainment decision makers, gain new insight on selling entertainment product, screen films, showcase fashion designers, broker deals, promote new music, artist showcases and learn new industry trends. FES has attracted the likes of Grammy Award winners, Video Directors, Models, Platinum Recording Artists such as John Legend, Rick Ross, Melissa Ford, R. Malcolm Jones, Trina, Trick Daddy, Flo Rida, Jim Jonsin and a host of others.
"Florida Entertainment Summit has always and will continue to be an event that empowers emerging talent in addition to raising the awareness of the importance of community involvement" — Florida Entertainment Summit Founder, Elora Mason
The 6th Annual Florida Entertainment Summit Announce Trina's Diamond Doll Foundation Maranatha Community Center & Preserve Our Legacy as beneficiaries for the 2010 Hip-Hop Cares Initiative
Maybach Music Group, Slip N Slide Records, Poe Boy Music Group, Trina's Diamond Doll Foundation and 365Voice.com all to host Summit Events
Dec 9, 2010 FILM DAY | The Cinema Lounge & Remembering Haiti Benefit
5:30pm-8pm: Teen Summit
Movie Screening
The Impact of Media Violence on Youth Panel Discussion
Special Guest Meet & Greet
6pm-11pm: Cinema Lounge
6pm-8pm: Red Carpet/Meet & Greet Reception
Hosted by 365Voice.com
8pm-9pm: Keynote Address by Rainforest Films Co-Founder Will Packer
Remembering Haiti Inspired Short Film
& Tribute to Chef Wilkinson "Ken" Sejour
Hosted by WEDR 99 Jamz Radio Personalities
Lorenzo "Ice T" Thomas & DJ Griot
9pm-11pm: Short Film Screenings
11pm-Until: Official Opening Night Party
Portion of the proceeds benefit Maranatha Community Center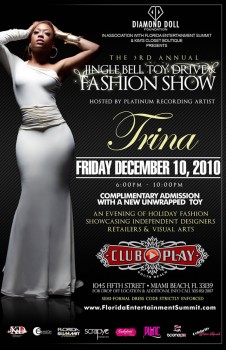 Dec 10, 2010 FASHION DAY | Showcasing Emerging Designers, Boutiques & Collecting Toys For Children In Need
The 3rd Annual Jingle Bell Toy Drive and Fashion Show provides an opportunity for indie designers, visual artists and pop up retailers to showcase their one of a kind product while collecting toys for children in need. The experience will include fashion shows, live performance while indie designers showcase clothing, jewelry, accessories, artwork, ceramics and so much more.
Trina's Diamond Doll Foundation In Association with The Florida Entertainment Summit Presents
The 3rd Annual "Jingle Bell Toy Drive" At the Florida Entertainment Summit Fashion Day
An evening of Holiday Fashion In The Spirit of Gift Giving
Showcasing Independent Designers, Retailers & Visual Artists
Special Cocktail Reception From 6pm – 7pm
Hosted By Slip N Slide Recording Artist Trina
We're working with Trina's Diamond Doll Foundation To Collect New Unwrapped Toys and Gift Certificates for Children in Need, Cash Donations can only be made at the event
Advance Toy Drop Off Locations: (Forward an email to Cherline(@)emasonassociates.com to become a drop off location)
Kim's Closet Boutique
1830 NE 163rd Street
N. Miami Beach, Florida 33162
305-725-5821
Kiss Kiss Boutique
14632 Northwest 7th Avenue
Miami, FL 33168-3030
FACA Clothing
2029 Harrison Street
Hollywood, FL
All Florida Entertainment Summit Registrants
Receive Complimentary Admission With Registration Badge and a Toy (Valued at $10 or more please)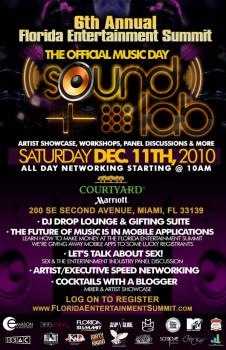 Dec 11, 2010 MUSIC DAY | We're Giving Away Mobile Apps To Some Lucky Registrants
10am–3pm: DJ Drop Lounge & Gifting Suite
DJs, Producers & Showcase Artist Only
10am–3pm: Model Casting
10am-10:45pm: Keynote Speaker
Suggest a keynote speaker by emailing FES(@)FloridaEntertainmentSummit.com
11am-12pm: The Future of Music is in Mobile Applications
Learn How To Monetize at the Florida Entertainment Summit
Sponsored by http://www.urbanworldwireless.com/
12:15pm-1:15pm: SoundLab
Sponsored by www.365voice.com
1:50pm – 2:50pm: Let's Talk About Sex! Sex & the Entertainment Industry Panel Discussion
Panelist will discuss the current climate towards sex & sex appeal as it relates to
the entertainment industry
Sponsored by Shyra Johnson PR
3pm – 5pm:Artist/Executive Speed Networking
Sponsored by Poe Boy Music Group
8pm – 11pm: Cocktails with a Blogger Entertainment Mixer & the 6th Annual Florida Entertainment Summit Artist Showcase
11pm – Until: Official Florida Entertainment Summit After Party
Sobe Live
1203 Washington Avenue, Miami Beach, FL 33131