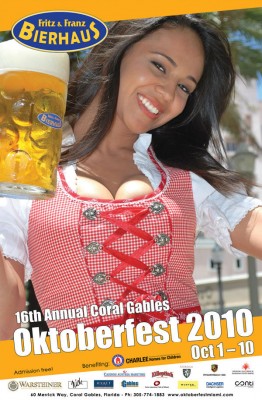 Free Oktoberfest at Fritz & Franz Bierhaus in Coral Gables
October 1 – 10, 2010, 11am to midnight
Fritz & Franz Bierhaus
60 Merrick Way
Coral Gables, FL, 33134
October 1 – 10, 2010
Weekdays from 11am to midnight
Weekends: 11am to 2am
ADMISSION: FREE
Website. or call 305-774-1883, or check out the event on
Facebook evite.
The legendary Coral Gables Oktoberfest will continue in its 16th year tradition in which an elite cultural event has been hosted in Miami's Coral Gables community. This FREE festival is will be held October 1 – 10 on the beautiful Bierhaus Plaza in front of Fritz & Franz Bierhaus at 60 Merrick Way in downtown Coral Gables, ten minutes from downtown Miami via Metrorail.
The festival has become one of Miami's most anticipated annual neighborhood celebrations and typically attracts up to 15,000 guests over a two-weekend span. Performers have included Austrian and German celebrated musicians like Die Edelseer, Gluatfunkn, Gifti und die Wahsinns Fuenf, Pfundskerle, Goldberg Spatzen, Luftsprung, Alpenland Express, Alpenland Gaudi, Kaitersberg Echo, Bavaria Krainer, Laterndl Trio and Sepp Hias.
Featured artists for the 2010 Oktoberfest include The Group GASTEIN of Gastein in Salzburg, Alpenland Gaudi and the STODERTALER GAUDI EXPRESS from Hinterstoder in Upper Austria.
As every year in the past, The Oktoberfest will raise money for a charity. This year we have chosen again CHARLEE Homes for Children to be the beneficiary of sales from the Raffle Tickets. Tickets will be sold for $5.00. GRAND PRIZE: 7 day cruise for 2 with Royal Caribbean International.
The 16th Annual Coral Gables Oktoberfest is a handicap accessible event.
The Hyatt Regency Hotel Coral Gables, a loyal sponsor of this event for the last 7 years will have again special rate during Oktoberfest 2010.
Other sponsors to the 16th annual Oktoberfest in Coral Gables are, Warsteiner Beer, Dachser Logistics, Casino Austria International, Social Miami.com, Community News, Styria LLC., Crystal River Oil and Gas company.