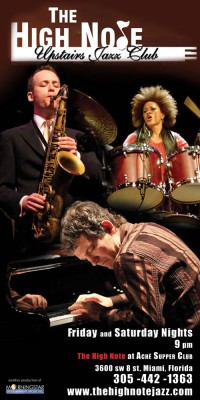 The High Note Jazz Club at Club Ache
October 8,9,15,16,22,23,29,30, 9pm
Every Friday and Staurday nights, 9pm
3600 SW 8 St.
Miami, Florida
The High Note Jazz Club
at Club Ache
Presenting the best local, national and international Jazz performers in an intimate club where the sound of Jazz, Pop, Latin, Live On Stage!
will electrify the setting…
Dont's miss this incredible place!
Close to Coral Gables…
"Where the love of jazz is glory!"
Full Menu and Bar
Live Jazz forever!