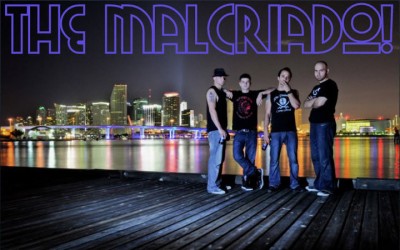 Hallandale Fashion, Art & Music Festival
October 2nd 2010, 1am
Dekka
139 NE 1ST AVE
Hallandale Beach, FL
Facebook page.
This Is The Malcriado!'S Last Show…
…for a little while.
We'll be taking some time off from playing while we work on some new material.
There will be 2 stages of Live music!
The Malcriado closes the party down @ 1AM, come party w/us!
Tickets – WE HAVE TICKETS! MAKE SURE TO BUY THEM FROM US, NOT AT THE DOOR!
Use The Malcriado! Hotline! (561) 3 – ROCKIN
Also Crowned to Be Great will be performing their own set right before The Malcriado! on stage 2, as well as a couple songs with The Malcriado! right after on stage 1
If you didn't catch them with us last week, you need to come out and see their SET – High Energy & Ridiculously Good!
South Florida's newest "New York-style warehouse-boutique party". Incorporating Local Fashion Designers, Artists and Live Music for a unique experience.
Stage 1
6:00-6:30 Xpelled
7:00-7:30 7 Sea's
8:00-8:30 Dead In Bed
9:00-9:30 Forgetting Babylon
10:00-10:30 The Nothing Left
11:00-11:30 InAsMuch
12:00-12:30 Daysleeper
1:00-1:45 The Malcriado!
Stage 2:
6:30-7:00 Atomik
7:30-8:00 Silenmara
8:30-9:00 Attention Radio
9:30-10:00 Nakedown
10:30-11:00 Miles Fink & The Revelators
11:30-12:00 Timatayo
12:30-1:00 Crowned To Be Great
"The Malcriado! is going to be the next big thing. They are a must see live band. What they do can not be captured on an ipod." Dj Oski, Miami Based DJ & President of Qool Shows
"The Malcriado has the talent, the resources, and the ambition to become the next big band out of South Florida." Renda Writer Poet/Event Host/Vice President of WeMerge Magazine
Awesome Rock Band… I see them playing on the stage for millions of Fans around the world… Guess what they started here in South Florida…. Elton Hazel, Vice President Whateva' Works Entertainment‎
The Malcriado Meshing Musically, Creatively & Oozing with Versatility Instrumentally…They are driven, fully charged and ready to Rock & Roll! …."Total Dopeness"…! – Melissa Capo, Founder/Operations Manager for Whateva' Works Entertainment