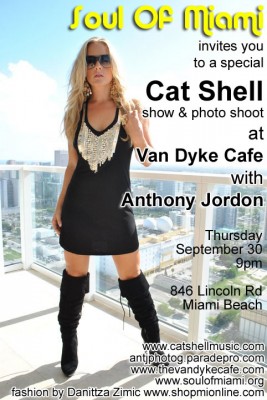 Soul Of Miami invites you to a special Cat Shell show featuring a photo shoot by Anthony Jordon at Van Dyke Cafe.
Thursday, September 30, 9pm
Van Dyke Cafe
846 Lincoln Rd
Miami Beach
Cat Shell, a seductive songstress residing in Miami Beach, FL, is here to bring her unique mix of jazzy pop/soul to the listening ears of the world. Cat has taken her eclectic taste in music and formulated a style that combines the sounds of the past with the present. Cat Shell's music brings with it an aura of familiarity and radio-friendly artistry.
Anthony Jordon, as a self taught photographer, my vision is just that: to see what can be shot and shown through my camera lens, and then presented as artistically and professionally as possible, exceeding the expectations of my clients.
Soul Of Miami is doing this just because we can. We like Cat and Anthony and Van Dyke, so we set this up so we could have a good photo gallery of one of our favorite singers. That's it, we are making no money out of this, just doing it for fun. We hope you will join us for a drink and to listen to some excellent music. You'll show up in the gallery, no doubt, as well. Hope to see you there!
www.catshellmusic.com
www.thevandykecafe.com
antjphotog.paradepro.com
fashion by Danittza Zimic www.shopmionline.com