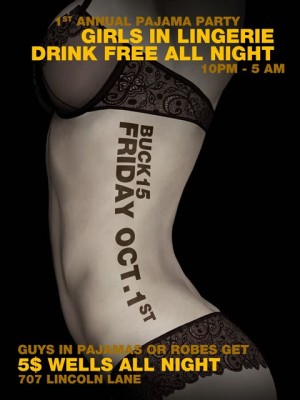 BUCK15 1st Annual Pajama Party
10/1/10, 10pm.-5am.
BUCK15
707 Lincoln Lane North
Back Door Alley above Miss Yips
BUCK15.net
Come party at your home away from home with our 1st annual Pajama Party. GIRLS IN LINGERIE DRINK FREE ALL NIGHT and Guys in pajamas or robes get $5 WELL drinks all night. Bottle service with a couch from $115. W/DJ Ryan Evans. As always no cover but arrive before 12 to avoid a line!!