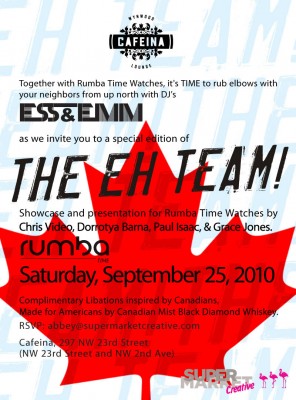 Saturday, September 25, 2010
9:00 p.m. to 3:00 a.m.
Cafeina
297 Northwest 23rd Street
Miami, FL 33137
For reservations: 305.438.0792
RSVP required to abbey@supermarketcreative.com
Cafeina is proud to present the seventh installment of its monthly Canadian-inspired party series "The EH Team!" on Saturday, September 25. Canadian-Miamian DJ vixens Ess & Emm (Sasha Lauzon and Michelle Leshem) return to the lounge for a musical showcase celebrating diplomacy, plaid and everything maple. The soiree will be hosted by a roundtable of Miami hipsters including Chris Video, Dorrotya Barna, Paul Isaac, Grace Jones and Mariana Loumiet.
RumbaTime watches will join in on the fun as a fashion partner for the September 2010 installment at the Wynwood haunt. A few lucky guests will be the winners of a Vandam Collection timepiece by the colorful lightweight brand for men, women and children with on-the-go lifestyles. As usual, Cafeina also invites "The EH Team" patrons to enjoy complimentary Canadian libations including: The Snowbird, Canadian Mist Black Diamond Whiskey, almond apricot liqueur and botanical maple syrup topped with northern effervescent spring water; The Beer, Molson Canadian; and The Shot, Canadian Mist Black Diamond Whiskey.
About Cafeina:
Cafeina is a multi-room, restaurant-lounge-art gallery with a lush outdoor garden. It is located at 297 Northwest 23rd Street in the Miami Wynwood Art District. The kitchen, led by Executive Chef Guily Booth, offers light bites including Miniature Kobe Burgers ($11), Crab Cakes ($13) and Oriental Salmon Tartar ($13), and is open Wednesday through Saturday 6:00 p.m. to midnight; the bar is open until 3:00 a.m. Complimentary valet parking is available. For more information, please call 305.438.0792.