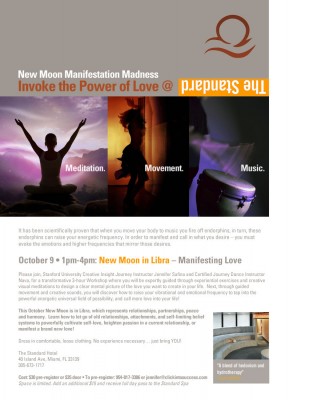 Newe Moon Manifestation Workshop
October 9, 100 to 400pm
The Standard Hotel
40 Island Avenue
Miami Beach, Fl 33139
Cost is $30 pre-register $35.00 at the Door. Add an additional $15 if you would like to indulge in a spa day pass!
Please RSVP: Jensafina@mac.com or 954-817-3386
Facebook evite.
New Moon Monthly Manifestation Series Meditation. Movement. Music. It has been scientifically proven that when you move your body to music you fire off endorphins, in turn, these endorphins can raise your energetic frequency. In order to manifest and call in what you desire – you must evoke the emotions and higher frequencies that mirror those desires. October: Manifesting Love Please join, Jennifer Safina and Nava Sabag, for a transformative 3-hour Workshop where you will be expertly guided through experiential exercises and creative visual meditations to design a clear mental picture of the love you want to create in your life. Next, through guided movement and creative sounds, you will discover how to raise your vibrational and emotional frequency to tap into the powerful energetic universal field of possibility, and call more love into your life! This October New Moon is in Libra, which represents relationships, partnerships, peace and harmony. Learn how to let go of old relationships, attachments, and self-limiting belief systems to powerfully cultivate self-love, heighten passion in a current relationship, or manifest a brand new love!
Dress in comfortable, loose clothing. No experience necessary… just bring YOU!