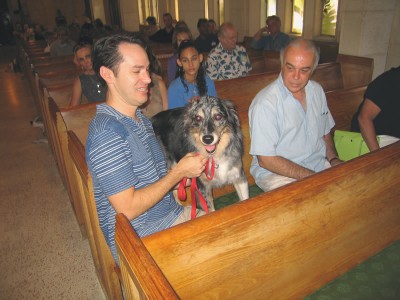 All Creatures Great (Dane) And Small
Eighth Annual "Pet Blessing" Service for the Community To Be Held At St. John's on the Lake
October 3, at 11 a.m.
St. John's sanctuary
4760 Pine Tree Drive, Miami Beach
September 20, 2010 – Realizing that four legged and finned companions are an integral part of many families, St. John's on the Lake United Methodist Church is once again hosting a favorite community tradition with St. John's new Pastor Chris McNeill conducting the eighth annual "pet blessing" service on Sunday, October 3, at 11 a.m. in the St. John's sanctuary. The pet blessing is free and open to the entire community.
Well-behaved pets and their human companions of all faiths and denominations are welcome at this special service. Following the service, St. John's congregation and their pet guests will host a special "yappy hour" on the church's outdoor patio overlooking Surprise Lake. New this year will be a pet adoption and fundraising drive for Spotted Dog Animal Rescue.
"We added the dog adoption to this year's service because there are many animals in our community that are deserving of a loving home," said Pastor McNeill. "How blessed would these orphans be if they got adopted at a pet blessing service."
The St. John's pet blessing service celebrates the Feast Day of St. Francis of Assisi, the patron saint of animals and the environment. Feast Day pays homage to the founder of the Franciscan Order who was renowned as a lover of all creation, and each pet participating in the service will receive a St. Francis medallion to commemorate the day and their patron saint.
"The annual pet blessing is one of our favorite and most heartwarming community events," said Pastor McNeill. "Our furry, finned and feathered family members are such a special part of our lives. This service gives us a chance to affirm that 'all creatures, great and small' are deserving of our love and care."
St. John's on the Lake was founded in Miami Beach in the 1920s in an upper room of Smith's Casino on Ocean Drive, south of First Street. Today, St. John's is celebrating its 10th year as Florida's only Reconciling Ministry. The Reconciling Ministries Network is a growing movement of United Methodist individuals, congregations, campus ministries, and other groups working for the full participation of all people in the United Methodist Church, embracing the entire spectrum of race, age, gender, family status, sexual orientation, heritage, physical ability, economic status, and religious background.
St. John's is located at 4760 Pine Tree Drive, Miami Beach. For more information, call the church office at (305) 531-7166 or visit www.stjohnsmiamibeach.com.