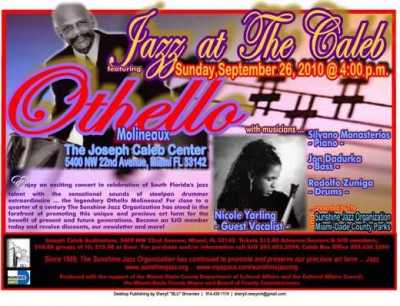 Sunshine Jazz Organization of South Florida
Presents
Othello Molineaux
w/ special guest vocalist Nicole Yarling
Sunday September 26, 4:00 p.m. until 7:00 p.m.
Perhaps the most recognized name in the world for his innovative talents on an instrument once considered a novelty, legendary Steel Pan virtuoso OTHELLO MOLINEAUX will take the stage on Sunday, September 26, 2010, from 4:00 p.m. until 7:00 p.m. at the Joseph Caleb Center as the Sunshine Jazz Organization presents Part Two of a series celebrating South Florida's premier musical talent.
Born in Trinidad to a musical family, Othello is widely credited with introducing Pan to the jazz world. He learned to play piano then pan very early and left Trinidad in 1967 to pursue a career as a musician. Othello burst onto the world jazz stage in 1976 after appearing on Jaco Pastorius' grammy nominated debut album and since has performed worldwide with jazz greats including Dizzy Gillespie, Herbie Hancock, Monty Alexander, Weather Report, Ahmad Jamal and many more.
For this special concert, Othello will be accompanied by four of South Florida's finest musicians. Each has achieved notable status for musical achievements as performing and recording artists, and as educators. Appearing with Othello will be Silvano Monasterios on piano, Jon Dadurka on bass, Rodolfo Zuniga on drums, plus special guest vocalist, Nicole Yarling.
http://www.myspace.com/othellomolineaux
Don't miss this exciting gathering as the SJO celebrates South Florida's amazing treasure of Jazz talent.
Joseph Caleb Auditorium is located at 5400 NW 22nd Avenue, Miami, FL 33142.
Tickets $12.00 advance, seniors & SJO members; $10.00 groups of 10; $15.00 at the door.
For purchase and info call SJO (305)693-2594; Caleb Box Office (305)636-2350.
Since 1986, The Sunshine Jazz Organization has continued to promote and preserve
America's precious art form – Jazz.
Produced with the support of the Miami-Dade County Department of Cultural Affairs and the Cultural Affairs Council, the Miami-Dade County Mayor and Board of County Commissioners.
Sunshine Jazz Organization of South Florida
P.O. Box 381038, Miami, Florida 33238