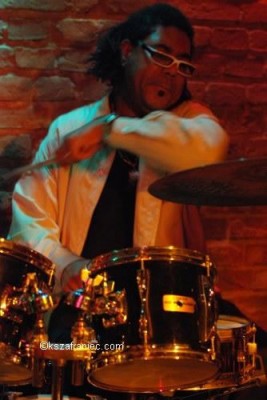 Ernesto Simpson at Jazid
Sept. 28, 11 PM – 2 AM
Jazid
1342 Washington Ave
South Beach
www.jazid.net
KCC Productions presents the Ernesto Simpson Quartet Thursday, Sept. 23 at 9 PM at the Van Dyke Cafe and Tuesday, Sept. 28, at 11 PM at Jazid. In the USA from Britain, Ernesto will be accompanied by Dave Siegel on piano, Nicky Orta on bass, and special guest Felipe Lamoglia on sax.
Ernesto Simpson began his musical career at an early age and had his first paying gig with his father's band. His exposure to a variety of styles, rhythms, combined with African and Afro-Cuban, South American styles has allowed him to develop a powerful and innovative concept fitting perfectly the needs of the new collective music. His musical sophistication is matched only by his ability to play on a very high level with great consistency, freshness and unique taste. He is known for his furious commitment that soloists playing with him had to exert all their might to keep along with him.
Ernesto performs in a myriad of arenas from Jazz to R&B, Latin, ethnic and more. Because of his commitment to excel, he constantly develops new ideas with technique to spare. His love for music and respect for his instrument and peers lead him to play everything with incisive, deep, soulful perfection. Active on the New York jazz scene, he is swiftly establishing a high reputation among his peers; his incendiary riffs ignite anyone's imagination.
Touring with recognized international bands, Ernesto Simpson's name has become much better known in the music world. He has performed and/or shared stage with artists like Carmen McRae, Dizzy Gillespie, Wynton Marsalis, Mike Stern, Michel Legrand, Herbie Hancock, Michael Brecker, George Benson, Salif Keita, Tito Puente, Giovanni Hidalgo, Arturo Sandoval, Paquito D' Rivera, Ray Barreto, Brian Lynch and Gonzalo Rubalcaba, just to name a few, he also plays for the famous Cameroonian song-writer, singer and bass player, Richard Bona.