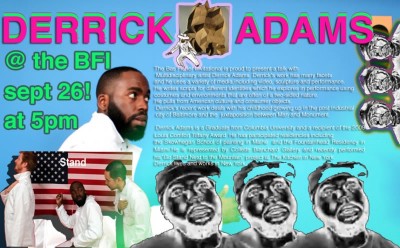 Derrick Adams artist talk
BFI 180 NE 39th Street, suite 210
in Miami's Design District
Sunday, September 26th, 5pm
The Bas Fisher Invitational is proud to present a talk with multi-disciplinary artist Derrick Adams. Adam's work has many facets and uses a variety of media, including video, sculpture and performance. He writes scripts for different identities which he explores in performance using costumes and environments that are often of a two-sided nature. He pulls from American culture and consumer objects. Derrick's recent work deals with his childhood growing up in the post -industrial city of Baltimore and the juxtaposition between Man and Monument.
Derrick Adams received his masters of Fine Arts from Columbia University and is a recipient of the 2009 Louis Comfort Tiffany Award. He has participated residencies including the Skowhegan School of painting in Maine and the Fountainhead Residency in Miami. He is represented by Collette Blanchard Gallery and recently performed his "Go Stand Next to the Mountain" project at The Kitchen in New York.
Derrick lives and works in New York City.
-Katia Rosenthal
www.basfisherinvitational.com
info@basfisherinvitational.com