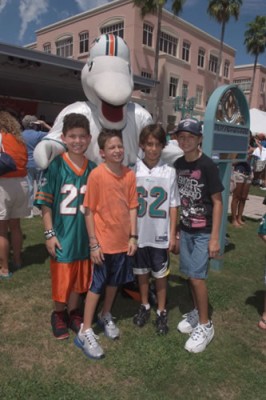 Super Sundays-Downtown Boca is Finstown!
September 19, 2010, 12 p.m.
Mizner Park in Downtown Boca
Following a victorious first Fins' South Florida's Biggest Away Game Party at Mizner Park last week during the Dolphins' season opener, Finatics of all ages and their families, friends and colleagues are once again invited to come out to enjoy the free festivities and unique fan experiences during the team's second Away Game Party this Sunday, September 19th. The fun begins at 12 Noon at the "50 yard line" of Mizner Park (at the Grand Center Fountain area) until the final seconds of the Dolphins' game against the Minnesota Vikings.
This week's festivities will include autograph signing and photos with Dolphins alumni Louis Oliver and Troy Drayton, performances and meet-and-greets by Dolphins Cheerleaders and football and cheerleading clinics. Sharing the aqua and orange stage with alumni and cheerleaders will be TD the mascot and Fins Force who will get Dolphin Fans, from young to old, revved up for the big game, while live music, stilt walkers, power skippers and a "live" bronze" football player keep the energy going throughout the day.