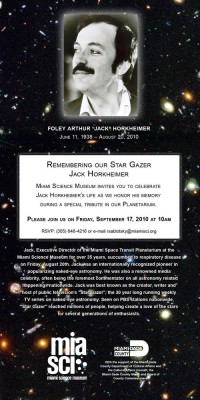 Memorial for Jack Horkheimer at Miami Science Museum
Friday, September 17, 2010, 10:00 a.m.
Miami Science Museum Planetarium
3280 South Miami Avenue
Miami, FL 33129
(305) 646-4200
Memorial will be held in the Planetarium
The memorial is free and open to the public.
RSVP: (305) 646-4216 or e-mail rsablotsky@miamisci.org
The Miami Science Museum will be hosting a memorial to pay tribute to the late Jack Horkheimer, Executive Director of the Miami Space Transit Planetarium at the Museum for over 35 years, on Friday, September 17th at 10 a.m.
Jack succumbed to respiratory disease on Friday, August 20th. Jack was an internationally recognized pioneer in popularizing naked-eye astronomy. He was also a renowned media celebrity, often being the foremost commentator on all astronomy related happenings nationwide. Jack was best known as the creator, writer and host of public television's "Star Gazer," the 30 year long running weekly TV series on naked-eye astronomy. Seen on PBS stations nationwide, "Star Gazer" reached millions of people, helping create a love of the stars for several generations of enthusiasts.
The Miami Science Museum aims to make a difference in people's lives by inspiring them to appreciate the impact that science and technology can have on every facet of our world. For over 60 years, MiaSci's award-winning educational programs, family-focused exhibits, historic planetarium, and rehabilitative Wildlife Center and Clinic have enriched locals and tourists alike. In 2014, the legacy continues, as MiaSci will be moving to a new world-class, state-of-the-art facility designed by Grimshaw Architects in the heart of downtown Miami. The Museum will remain operational at its current location on South Miami Avenue until completion of the new building. MiaSci is accredited by the American Association of Museums and is an affiliate of the Smithsonian Institution. For more information about the Museum and our New Museum project, visit www.miasci.org/blog or call (305) 646-4200.
Miami Science Museum is located at 3280 South Miami Avenue, Miami, FL 33129. The Museum is open every day from 10:00 am until 6:00 pm. Admission is free for MiaSci members and children under 3; students (with valid ID), seniors (62+) and children 3 – 12, $10.95; adults are $14.95. Parking is free.