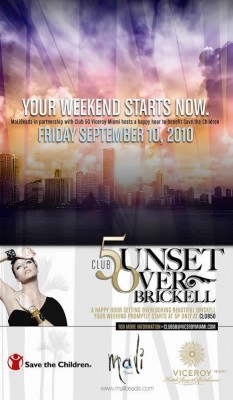 New Miami-Based Jewelry Line is all About Giving Back
September 10, 2010, 5-11:00
Viceroy Hotel, Club 50
485 Brickell Avenue
Miami, FL 33131
Local designers and entrepreneurs Mallory and Lianne Lopez will debut their new jewelry line, MaLi Beads at the Viceroy Hotel in an effort to raise funds for one of the poorest nations in the world, Mali, Africa. Donations to MaLi Beads from those in attendance will support Save the Children, a leading organization recognized for their commitment to children in Mali.
About MaLi Beads
Named after its creators and designers Mallory and Lianne Lopez (connected by years of friendship, not relation), MaLi Beads reveals a deeper purpose with every concept. It was one coincidence that the two girls' first names were a perfect combination of what was to become their signature line; but it was truly fate that both shared a desire to represent one of the poorest nations in the world, Mali. Through art and design, the two Miami-based entrepreneurs are driven to support the third world country with their "From MaLi, For Mali" campaign. Founded in 2009, the MaLi Beads line offers handmade jewelry collections in an eclectic range of designs inspired by the country's eight regions. With the juxtaposition of varied mixed beads and the introduction of colorful elements, MaLi Bead's pieces seamlessly combine an African-chic vibe with timeless sophistication. MaLi Beads is rooted in a triangle philosophy that continues to drive the brand's inspiration: friendship, fashion and philanthropy. For more information please visit: www.MaLiBeads.com.