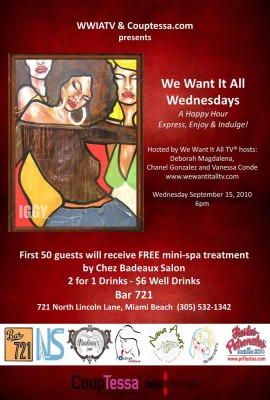 We Want It All Wednesday.Express, Enjoy, Indulge. A Unique Happy Hour
Wednesday September 15, 6:00pm – 9:00pm
Bar 721
WE WANT IT ALL TV® joins BAR 721 and Couptessa.com to host
"We Want It All Wednesdays"
A weekly series of ladies networkers where patrons can Express, Enjoy, & Indulge!
Talk show hosts, Deborah Magdalena , spoken word poet and actress, local radio personality Chanel Gonzalez, and business executive Vanessa Conde explore what it is to be a woman in this day and age on their online show and now they are bringing the set to audiences… live at Bar 721.
Together with CoupTessa.com (the online 'deal of the day' shopping site), WWIA has created an evening of indulgence, pampering and fun for women and men alike. The first Wednesday of the series (Sept. 15th) will feature mini-spa treatments provided by South Beach based spa Chez Badeaux as well as samplings of Nana Ana's Greek Pastries and specialty drinks created by Bar 721.
"We are excited about being able to connect with our viewers one-on-one while rewarding them for having the courage to Want It All with a night of treats and cocktails," states Producer and Host Deborah Magdalena.
The weekly series will also feature gift bag give-aways by Kielhs and Mary Kay, samplings by SobeSweets and special evenings will be dedicated for causes and charities such as Susan G. Komen for Breast Cancer Research.