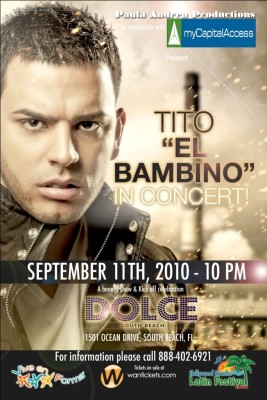 Tito el Bambino at DOLCE
September 11th, 10 pm
DOLCE
1501 Ocean Drive
Miami Beach, Florida
33139
www.dolcesouthbeach.com
Hispanic Heritage Latin Night – a benefit show and kick off celebration with Tito el Bambino – el Patron and Paula Andrea Rubio.
One of the pioneers of reggaeton, Tito el Bambino was half of the trailblazing duo Hector & Tito before he embarked on a solo career of his own, signing with EMI Televisa and debuting in 2006 with Top of the Line. Join him and Paula Andrea Rubio as we celebrate Hispanic heritage.
For Table Reservations, Tickets, or General Inquieries:
phone: 305.672.2221
email: luis@dolcesouthbeach.com