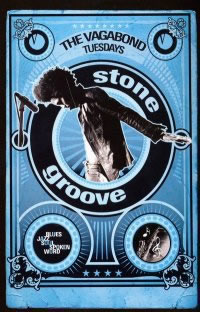 Stone Groove
08-31-10,
The Vagabond
30 ne 14th st.
What is Stone Groove? It is a rock hard wave of creativity that proves there's a soul inside of The Vagabond. Stone Groove is a night tailor-made for jazz enthusiasts and poetic aficionados. It fills a live-music-scene gap and builds a stable home for artistic expression in Miami. Stone Groove is hosted by Marcus Blake.Who is also a poet a, Blake is an original artist contributing to the avant-garde identity of the growing Downtown art scene. He is backed by The 3rd Party, the out-of-the-box jazz-fused band that sets the tone for the night. They serve as a musical backdrop for the Miami performance artists, poets, singers, improv artists, and musicians who make up the community that is Stone Groove.
Between performances, The Pharmacist plays an eclectic blend of jazz, soul, and funk that creates the ambiance for the evening. Hipsters and artists generate an electric energy as both spectators and performers for the night making Stone Groove one of Miami's strongest social networking music scenes. Catch Stone Groove every Tuesday night @ The Vagabond. The Vagabond is open Tuesday thru Saturday from 10pm-4am Located in Downtown Miami at
30 NE 14th St. For Information call 305-379-0508
Thank you for using Soul Of Miami!