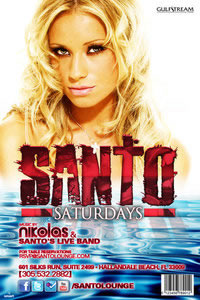 Santo Saturdays with Erin Mia
September 4, 11pm – 5am
Santo Vip Lounge At The Gulfstream Park Casino Complex
Gulfstream Park & Casino Complex
601 Silks Run Road Suite 2499
Hallandale Beach, Fl 33009
www.santolounge.com
Experience Broward's Only Luxury Vip Nightclub Each And Every Saturday Night At The Luxurious New Gulfstream Park & Casino Complex In Hallandale.
Dj Nikolas & The Santo Live Band From 10 Pm Until 5am
Strict Dress Code & Mandatory Guest List
You Must Rsvp By Text Message Or Phone Call To: 954.232.0772
Directions: From I 95
Exit Hallandale Beach Boulevard And Head East To Us 1/ Federal Highway ( Biscayne Boulevard ). Make A Right Onto Us1/Fed Hwy And Immediately Get Into Left Lane. The Entrance To Gulfstream Park Is The First Left. Follow Straight Through The Gulfstream Park Complex. Valet Parking Is At The End Of That Street And Self Parking Is Available Through Out The Complex. Take The Elevator At The Main Casino Building To The Second Floor And Walk Straight Ahead, Across The Walkway.
Santo Lounge Will Be On Your Right Hand Side.
Table Reservations, Bottle Service & Guest List: Erin Mia Milchman 954.232.0772