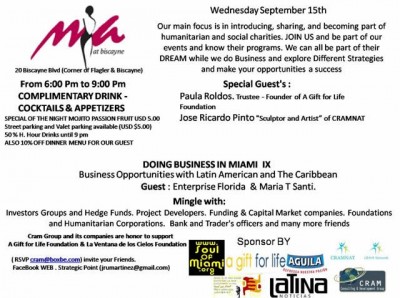 DOING BUSINESS IN MIAMI IX.
ONE MASK + ONE GLASS & ONE GOAL = HOPE
Wednesday September 15th
20 Biscayne Blvd (Corner of Flagler & Biscayne)
An Evening of summer breeze at MIA Lounge
From 6:00 Pm to 9:00 Pm
COMPLIMENTARY DRINK – COCKTAILS & APPETIZERS
SPECIAL OF THE NIGHT MOJITO PASSION FRUIT
Our main focus is in introducing, sharing, and becoming part of humanitarian and social charities. JOIN US and be part of our events and know their programs. We can all be part of their DREAM while we do Business and explore Different Strategies and make your opportunities a success
Special Guest's :
Paula Roldos. Trustee – Founder of A Gift for LifeFoundation
Jose Ricardo Pinto "Sculptor and Artist" of CRAMNAT
Business Opportunities with Latin American and The Caribbean
Guest : Enterprise Florida
Maria T. Santi. Founder and Executive Director Children First Foundation
Mingle with:
Investors Groups and Hedge Funds. Project Developers. Funding & Capital Market companies. Real State Investor's. Law firms. Foundations and Humanitarian Corporations. CPA, Bank and Trader's officers and many more friends.
Street parking and Valet parking available (USD $5.00 for our guest )
MUSIC OF CNT. 50 % H. Hour Drinks until 9 pm
ALSO 10% OFF DINNER MENU FOR OUR GUEST
( RSVP cram@boxbe.com) invite your Friends
Cram Group and its companies are honor to support
A Gift for Life Foundation & La Ventana de los Cielos Foundation.
Sponsor BY AGUILA (Colombian Beer) CRAMNET- CRAM Group. CRAMNAT GPP Foundation
Facebook Page.