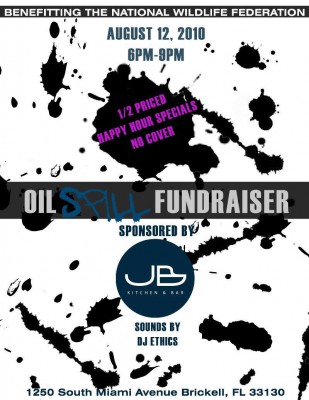 The National Wildlife Federation and JB Kitchen & Bar
have teamed up to host a much-anticipated local fundraiser benefiting the Gulf cleanup effort.
Thursday, August 12, 2010
6pm-9pm
1250 South Miami Avenue
Miami, FL 33130
Sounds by DJ Ethics
JB Kitchen & Bar will donate a percentage of the proceeds from drink sales and a select menu of appetizers towards funding the rehabilitation of wildlife and the environmental cleanup of the affected area. There will be additional donation opportunities at the venue, as well as information on how to further get involved with the NWF.
Happy Hour from 5pm-8pm
Half-Off Specials on Drinks & Appetizers
JB Kitchen & Bar is also participating in Miami Spice.
For dinner reservations, please call 305.415.0070.
The National Wildlife Federation (NWF) is America's largest conservation organization. NWF works with more than 4 million members, partners and supporters in communities across the country to protect and restore wildlife habitat, confront global warming and connect with nature. Because there are more than 10,000 miles of actual shoreline along the Gulf (counting bays and inlets), NWF volunteers are fanning out to locate birds and other creatures in trouble. All oiled wildlife is reported to the official Oiled Wildlife Hotline–866-557-1401–and picked up by trained rehabilitation specialists to be taken to the nearest rehab center. The organization continues to recruit people in the Gulf area with developed wildlife observation skills and with a respectable knowledge of local lands and waters. For more information visit nwf.org.
JB Kitchen & Bar opened has emerged as one of Brickell's newest illustrious neighborhood restaurants. This 5,000 square foot establishment offers an array of American classics with Latin influences and an emphasis on fresh local ingredients. An indoor and outdoor restaurant that features a timeless U-shaped bar and private outdoor terrace, JB Kitchen & Bar imparts a warm, casual and inviting environment with a delectable and entertaining menu that offers something for everyone. Executed by Chef Frederick H. Kelly, the menu features Rock Shrimp Tempura, Fried Yuca, Beef Carpaccio, Cracklin Calamari and JB's Honey Mustard Wings, along with an array of salads and sandwiches. Entrées are traditional with a twist of modern flair and innovative flavor, including a Corvina A La Nonna, Lomo Saltado, Churrasco and Grilled Rack of Lamb served with sides such as Truffle Parmesan Fries, Lobster Mac & Cheese and Whipped Potatoes. Guests can enjoy JB's full menu, specialty cocktails and draft beer while sitting at its welcoming bar offering a wide range of entertainment on the large flat screens viewable from every angle. For more information, visit www.jbkitchenandbar.com.