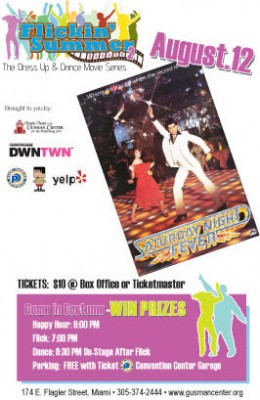 Get Your Dance On: Flickin' Summer – Saturday Night Fever
Saturday Night Fever
Thursday August 12, 7pm
Gusman Center
For more information go to GusmanCenter.org
174 E. Flagler St. · 305.374.2444
It's back baby…cheesy movies and on-stage dance parties at the Gusman…Flickin' Summer Season 2 … Drink Specials, a Disco Dance Party and Costume Contest add to the crazy fun.
Get your dance on with John Travolta in the role that made him famous…Disco – Teen angst – Romance in a car – MORE Disco. Life as a Guido before Jersey Shore.
DANCE: DJ Pauer spins 70's Disco
DRINK: Discolicious Specials
DRESS: Leisure Suits, Platform Shoes & Gold Chains
Tickets $10 and FREE Parking at the Miami Parking Authority's Convention Center Garage with your ticket stub!