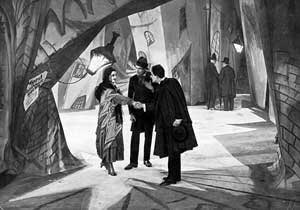 DYNO'NITE—FILM
Friday, August 13, 7pm
THE CABINET OF DR. CALIGARI
The Wolfsonian-FIU
1001 Washington Avenue
Miami Beach, Florida 33139
wolfsonian.org
(1920, Germany, Robert Wiene, 72 minutes, b&w, DVD)—In this silent 1920s masterpiece, an insane asylum inmate explains to his psychiatrist how he came to the institution, telling the shrink the story of the evil hypnotist Caligari and his
unwitting pawn, the sleepwalker Cesare. This stark expressionist film from German director Robert Wiene astonishes with the power of its sets and visuals, and the creepy plot easily raises hackles on the back of one's neck. The Dynamo Café will offer 2-for-1 beer and wine from 6-9pm on Dyno'Nites, specially designed as a venue for the local community to present their talent and knowledge. For more information: 305.535.2680 or paola@thewolf.fiu.edu. Free.
Everyone Is On Our V.I.P. List Tonight.
Free Gallery Admission On Fridays
From 6-9pm
Enjoy Free Fridays at The Wolfsonian from
6-9pm. Join us for a guided tour at 6pm and innovative programming at 7pm. Galleries remain open until 9pm.