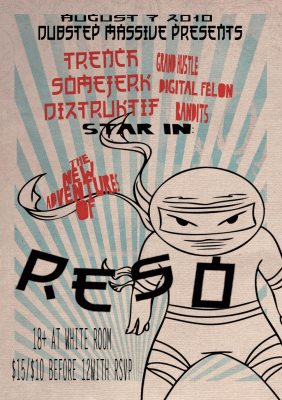 [MIAMI] Dubstep Massive presents: RESO + TRENCH
Saturday, 10:00pm
White Room – MIAMI
1306 North Miami Avenue
Miami, FL 33136-2816
RESO is a rising star, gaining worldwide notoriety for his technoid inspired productions which often transcend the dubstep tag that many have easily slotted him into. Reso's aural identity is a densely layered, high octane tapestry, rich with musical texture and colour, which sets him apart from the minimal sparseness of many of his fellow producers. With a busy DJ schedule, Reso has been smashing dancefloors from Newcastle to Nottingham and London, whilst regularly hitting Europe.
Mary Anne Hobbs has been a fervent supporter of the young producer, commissioning a special 20-minute mix for her Radio One Breezeblock show back in January 2007. Reso has worked with Burial, engineering his critically acclaimed remix of Jamie Woon's Wayfaring Stranger. More recently Reso's remix of The Dubstitutes 2 Faced Rasta (Dubting) has been gathering strong support from some of Dubstep's key players such as Benga, N-Type, Walsh and Rusko. With releases due on Hospital Records, Storming Productions, Destructive, Urban Graffiti and Skud, Reso is definitely one to catch! http://www.myspace.com/corgrimey
TRENCH is from Atlanta and one of the leading engineers for T.Is Grand Hustle label. Backed by artists from Shadow Law Recordings, Vision, Renegade Hardware, Evol Intent Recordings, Citrus, and Trillbass, as well as original material and exclusive mashups from his own production, get prepared to be relentlessly assaulted from today's newest & unreleased Drum & Bass and Dubstep. Trench's newest production smasher "Deadly" will be released on Trillbass Records on August 10, to couple the recent release of his brutal yet melodic remix of Wes Green's "Fly Away" which is already gaining the attention of dance floors and DJs Nationwide. Trench is infamous for using 3 decks, and doing countless triple drops when he performs, leading many to coin him as the "Andy C of Dubstep". Trust when we tell you, once you see Trench live, all other DJs will pale in comparison.
With special drink prices, DizTruktif, and Miami New Times "Best New Electronica Artist, SOMEJERK this is a night to celebrate music and talent.
RSVP VIA DUBSTEPMASSIVE@GMAIL.COM for FREE admittance/ $5 off
$15 entrance after 11:30 PM
2 for 1s drink deals from 10-11 / 4-5
…Shot+Beer for $6 all NIGHT long
18+ to enter *Bring ID*
Doors Open 10PM – 4AM