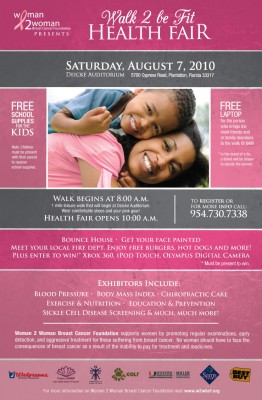 Third Annual Walk2Be Fit Health Fair presented by the Woman2Woman Breast Cancer Foundation
Saturday, August 7, 2010, Walk begins at 8a.m. & Health Fair begins at 9a.m.
Deicke Auditorium 5700 Cypress Road, Plantation, Florida 33317
Open to the public for FREE
www.w2wbcf.org
The Woman2Woman Breast Cancer Foundation presents the Third Annual Walk2Be Fit Health Fair. The Walk2Be Fit Health Fair is a three-mile leisure walk to encourage physical activity and is immediately followed by a health fair that will feature creative ways to promote Health & Wellness at all age levels.
Exhibitors will include specialists in blood pressure, body mass index, chiropractic care, education and prevention, exercise and nutrition, Sickle Cell Disease, and more. Following the walk, post-activities include a bounce house; face painting, appearance by the local fire department, dunk tank, back to school supplies and more.
There will be lots of FREE prizes including a laptop for the individual that brings the most friends and family to the walk. Participants can also enter to win a Xbox 360 New Edition, IPOD Touch Next Generation and Olympus 14.1 Megapixel Digital Camera. All prizes given out at the event and the winners must be present to win.
SPONSORS: Walgreens, Sam's Club, Best Buy, University of Miami Sylvester School of Cancer, Project Care, Chiropractic National Care Center and Dawg Golf.
REGISTER: Woman2Woman Breast Cancer Foundation at 954-730-7338