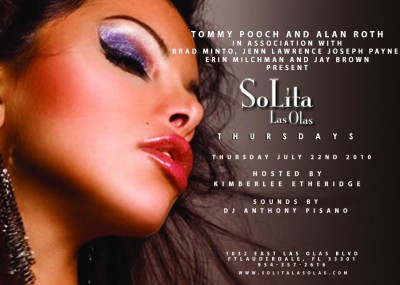 SoLita Thursdays with Kimberlee & Erin Mia
Thursday, July 29, 9PM ~ 2AM
SoLita Restaurant & Lounge ~ Las Olas
1032 East Las Olas Boulevard
Fort Lauderdale, FL
www.SoLitaLasOlas.com
~~ Tommy Pooch And Alan Roth ~~
In Association With: Brad Minto, Jenn Lawrence, Joseph Payne & Jay Brown
Proudly Present: ~~ :: Solita Thursdays :: ~~
With Dj Anthony Pisano
Hosted By: Kimberlee Etheridge & Erin Mia Milchman
~~ Reserve Tables Now !! ~~ Dinner Reservations & Bottle Service : 954.232.0772
Cocktails At The Bar From 6pm ~ 2am
Dinner Reservations Taken Until 11pm
** Prix ~ Fix Menu Available For $39. Per Person + Tax & Grat
** Celebrating Something Special ?
Let Me Reserve Our Circular Vip Booth ( As Featured In The Images Below ) And Suggest A Special Wine Selection Or Chilled Champagne Service.
Opportunities For Networking Events, Group Gatherings, & Business Happy ~ Hours
Ladies ~ Contact Me For Diva Dinner Parties, Birthday Celebrations, Divorce Parties & Bachelorette Events.
Dinner Reservations & Bottle Service
Erin Mia Milchman, shopaholik2457@aol.com
Follow Me On Twitter: http://twitter.com/ErinMiaPrtyDiva