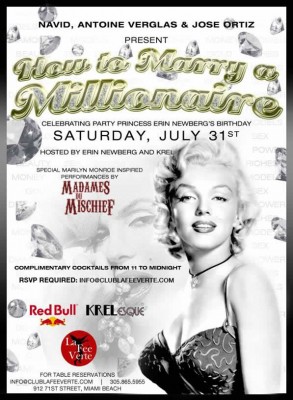 On Saturday, July 31 at 11 p.m. La Fee Verte's co-owners Navid and Antoine Verglas along with Jose Ortiz present How to Marry a Millionaire – a birthday celebration for local party princess, socialite and reality TV starlet of VH1's "Secrets of Aspen" Erin Newberg. The soirée will be hosted by the birthday girl and fashion designer Karelle Levy of Krel Wear. Guests will enjoy complimentary cocktails from 11 p.m. to midnight and catch special Marilyn Monroe inspired performances by the club's Madames du Mischief at midnight. To attend this event, please RSVP to info@clublafeeverte.com
La Fee Verte is South Florida's first and only tease burlesque and absinthe club. Its décor and ambiance are designed and meant to arouse the senses and seduce the crowds. La Fee Verte's eye candy is served at midnight with tease burlesque shows and contortionists taking place every 20 minutes until 3 a.m. Guests can also enjoy the club's 16 different types of absinthe and 20 custom absinthe-based signature cocktails. A membership or RSVP is necessary for entry.
La Fee Verte is located at 912 71st Street (NoBe North Beach) and is open Fridays and Saturdays 11:00 p.m. to 5:00 a.m. For a membership invitation, please email the owners at info@clublafeeverte.com.