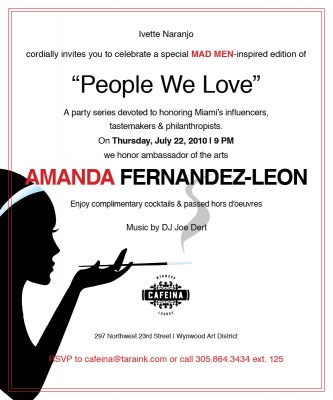 Wynwood hotspot toasts ambassador to the arts with "Mad Men" edition of People We Love
Thursday, July 22, 2010 , 9:00 PM to 3:00 A.M
Cafeina
297 Northwest 23rd Street, Miami, FL
www.cafeinamiami.com
Cafeina celebrates Calix Gustav Gallery owner/curator Amanda Fernadez-Leon with a special Mad Men-inspired installment of its "People We Love" party series on Thursday, July 22 at 9 PM. The young art aficionado selected the theme in honor of her favorite television drama, the stylized and provocative Golden Globe-winning series that follows Madison Avenue marketing executives circa 1960s Manhattan. Guests are encouraged to dress the part, i.e. plaid jackets, fedoras and skinny ties for the gents; cocktail dresses, white gloves and Jackie O. hairdos for the ladies. The soirée will also feature vintage mixes by the party's resident DJ Joe Dert and complimentary period-inspired libations including Vodka Gimlets and Tom Collins. Mad Men will premier its 4th season on AMC the following Sunday.
Fernandez-Leon is the 8th host of the Wynwood haunt's bi-weekly Thursday night bash honoring Miami's tastemakers, influencers and philanthropists. Notable hosts include nine-time Grammy Award winning producer Rudy Perez, Ocean Drive's Miami Beach "Design Queen" Sam Robin, and noted photographer Iran Issa-Khan, among others.
RSVP required to cafeina@taraink.com or 305.864.3434 ext. 125
Cafeina is a multi-room, restaurant-lounge-art gallery with a lush outdoor garden. It is located at 297 Northwest 23rd Street in the Wynwood Art District. The indoor/outdoor space is open Wednesday through Saturday 5:00 p.m. to 3:00 a.m. Valet parking is available. For more information, please call 305.438.0792.