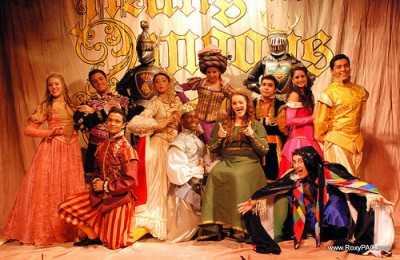 The Roxy Theatre Group Presents The Musical Fairytale, Once Upon A Mattress
July 23rd, 2010-August 1, 2010, the Roxy Performing Arts Center
July 23rd-August 1st. Fridays & Saturdays, 8:00 p.m. Sundays, 3:00 p.m. General Admission Tickets are $20. Summer camp performances are available.
There will be a cocktail reception and after-show party on Saturday, July 24, 2010 at 7:00 p.m. and tickets are $50. All proceeds benefit RTG's Student Scholarship Fund.
The Roxy Performing Arts Center, 1645 SW 107 Ave. Miami, FL 33165.
The Roxy Theatre Group (RTG), a non-profit arts organization for children, is proud to present the musical fairytale, Once Upon a Mattress, featuring a cast of 35 students, ages 12-22 and an orchestra of students from the Greater Miami Youth Symphony (GMYS), a non-profit organization dedicated to training young musicians. Once Upon A Mattress is an enchanting musical comedy fused with love, magic, and plenty of zany adventures.
The exuberant cast and orchestra are comprised of actors, dancers, singers and musicians representing over 18 different schools and colleges in Miami-Dade County.
ONCE UPON A MATTRESS is based on the classic fairy tale The Princess and the Pea by Hans Christian Andersen with music by Mary Rodgers, lyrics by Marshall Barer and book by Jay Thompson, Marshall Barer and Dean Fuller. For more information please call 305-226-0030, email SusannePinedo@gmail.com or visit www.RoxyPAC.com. The Roxy Theatre Group, (RTG) a non-profit organization, offers classes in drama, voice and dance to children ages 3-17, with year-round programs including an after school care program and a performing arts summer camp.