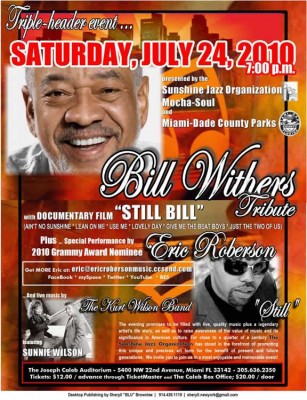 Sunshine Jazz Organization of South Florida
Bill Withers Tribute with Documentary Film "Still Bill"
Featuring live music by The Kurt Wilson Band featuring Sunnie Wilson
Plus Special Performance by 2010 Grammy Award Nominee Eric Roberson
Saturday July 24, 2010
The Joseph Caleb Auditorium is located at 5400 NW 22nd Avenue, Miami, FL 33142 (305)636-2350 Tickets are $12.00 advance through Ticketmaster and The Caleb Box Office; and $20.00 at the door.
This information courtesy of JazzBluesFlorida.com
Prepare for explosions come Saturday, July 24, 2010, 7:00 p.m. when The Sunshine Jazz Organization presents this triple-header event featuring the acclaimed Bill Withers documentary, "Still Bill", brought back by popular demand to The Joseph Caleb Auditorium. Withers has sung his way into the hearts of millions worldwide. His ability to say – what so many feel – is uncanny. Bill Withers is mentioned in the same breath as the greats – Stevie, Marvin, Donny – yet none sing with the directness, write with the frankness, nor compare in articulating the truth with much sparseness. He is a singer and songwriter who has topped pop charts and received awards, has been covered by Barbara Streisand and looped by Dr. Dre, and continues to influence an entire generation of artists. Honors include Soul Train, Grammy Songwriters, ASCAP Rhythm & Soul – Heritage Award, West Virginia Music and Rhythm & Blues Foundation – Pioneer Award and more. He has also received Grammy Awards for "Ain't No Sunshine", "Lean On Me", and "Just The Two of Us". The profound honesty and sensitivity found in his timeless music has made Bill Withers one of America's premier singer/songwriters, combining soulful warmth and a genuine, folksy feel with his immediately recognizable voice.
Preceding the film will be a concert by The Kurt Wilson Band featuring Sunnie Wilson performing some of Bill Withers' award winning hits. Following the film will be a very special appearance by Grammy-nominated Indie artist Eric Roberson touring in support of his new cd release "Music Fan First" with his song "Dealing", featuring Lalah Hathaway.
The purpose of this event is to present an evening of live, quality music plus a legendary artist's life story, as well as to raise awareness of the value of music and its significance in American culture. For close to a quarter of a century The Sunshine Jazz Organization has stood in the forefront of promoting this unique and precious art form for the benefit of present and future generations.