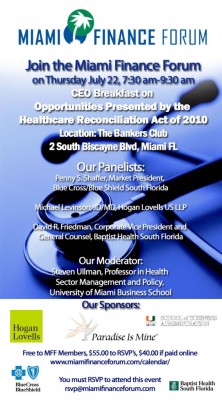 The Miami Finance Forum is proud to present our next CEO Power Breakfast.
We invite you to participate in our timely panel discussion on Opportunities Presented by the Healthcare Reconciliation Act of 2010
Please join us Thursday, July 22nd from 7:30 AM to 9:30 AM at the Bankers Club where Steven Ullman, professor in Health Care Management and Policy at University of Miami, will be the moderator for our knowledgeable speakers.
We are thrilled to present our panelists:
Penny S. Shaffer, Market President, Blue Cross/Blue Shield South Florida
Michael Levinson, JD/MD, Hogan Lovells US LLP
David R. Friedman, Corporate Vice President and General Counsel, Baptist Health South Florida
Don't miss this excellent opportunity to meet other financial professionals, hear our well-informed speakers, discuss the topic of the day, and enjoy a full breakfast.
The Bankers Club is located at 1 Biscayne Tower on the 14th floor.
You MUST RSVP to attend this event, since space is limited!
Please contact Elena Djakonova at rsvp@miamifinanceforum.com or call 877-FF-MIAMI / 877-336-4264
Parking is available inside the building!
Admission is complimentary for Miami Finance Forum Members! For our guests, it is $40.00 if paid in advance, and $55.00 if paid at the event.
Become a Miami Finance Forum Member today and enjoy complimentary admission to all MFF events, VIP invitations, and other amenities! Individual Membership is $195.00, Corporate Membership is $295.00, VIP $395.00