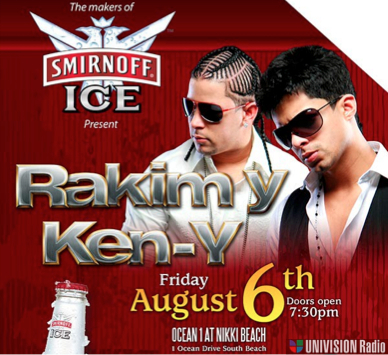 Smirnoff Ice and Univision Radio Launch Second Summer Concert Series Featuring Latin Music Artists
Univision Radio and Smirnoff Ice launch their second Summer Concert Series in Miami featuring chart-topping Latin music artists, this time enlisting the social media savvy public relations and ad house hybrid The brpr Group, conveniently based here in Miami. This summer, the series kicks-off seaside at Nikki Beach with Grammy nominated reggaeton duo R.K.M & Ken-y.
R.K.M & Ken-y, both from Puerto Rico, got their start after being noticed by Omar Fernando and Raphy Pina, two reggaeton moguls who quickly signed the duo. Since then, R.K.M & Ken-y have been an unstoppable force in the industry and audience favorites among the Hispanic public. Their first hit single, "Down", reached #1 on the Billboard Hot Latin Songs chart in 2006, and their album reached platinum status with over 600,000 copies sold internationally.
Like most Univision Radio events, the concert promises to be a social media frenzy, open only to contest winners who will have scored their passes by competing on several online platforms. R.K.M & Ken-y fans will have their chance at winning these free tickets by participating in trivia pop-quizzes on Twitter, local college campus "Barcoding", which encourages students to add user-generated media content through the new and innovative social media retail network Stickybits, Foursquare check-ins mentioning Smirnoff Ice, and by broadcasting their inner "reggaetonero" via the Smirnoff Ice YouTube Channel and Facebook Fan Page. While Trivia champions and "Barcoders" will receive general admission passes to the hot summer concert, winning "reggaetoneros" will be awarded VIP entry, granting them access to the Smirnoff Ice Cooling Spot and exclusive concert after party. Winners of Twitter Trivia, or by any other virtual means, will be embarked upon a social media scavenger hunt using the aforementioned platforms to officially redeem their passes at an undisclosed location in Miami Beach.
The brpr Group's resident TJ "Twitter Jockey", Manu Gabaldon, will be on the scene during this highly anticipated reggaeton extravaganza orchestrating the concert's stream of consciousness while on the 1's and 2.0's, with help from SocialBuzz TV and USTREAM, making the concert especially interactive by live-streaming audience tweets, twit-pics, and fan shots on the big screen. "We love what we do because we're constantly creating and striving to innovate the digital space. The opportunity to work with Univision Radio on the Smirnoff Summer Concert Series is the perfect storm for the pioneer," says the brpr Group's Social Media Curator, Jennifer Batchelor, "merging music, food & beverage, social media, radio, and video 3.0, while allowing us to engage with the most 'social' sect of all, Hispanics.
For more information on Univision Radio
For more information on Smirnoff Ice
For more information on The brpr Group