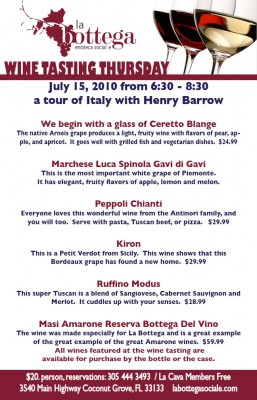 July 15, 2010 from 6:30 – 8:30
with Henry Barrow
Let's take a week night in South Florida and pretend we are touring Italy.
1- We begin with a glass of Ceretto Blange.
The native Arneis grape produces a light, fruity wine with flavors of pear, apple, and apricot.
It goes well with grilled fish and vegetarian dishes. $24.99
2- Marchese Luca Spinola Gavi di Gavi.
This is the most important white grape of Piemonte.
It has elegant, fruity flavors of apple, lemon and melon.
3- Peppoli Chianti.
Everyone loves this wonderful wine from the Antinori family, and you will too.
Serve with pasta, Tuscan beef, or pizza. Sip it and love it. $29.99
4- Kiron
This is a Petit Verdot from Sicily.
This wine shows that this Bordeaux grape has found a new home. $29.99
5- Ruffino Modus
Get ready to blast off into wine wonderland. This super Tuscan is a blend of Sangiovese, Cabernet Sauvignon and Merlot.
It cuddles up with your senses. $28.99
6- Masi Amarone Reserva Bottega Del Vino.
The wine was made especially for La Bottega and is a great example of the great example of the great Amarone wines. $59.99
All wines featured at the wine tasting are available for purchase by the bottle or the case.