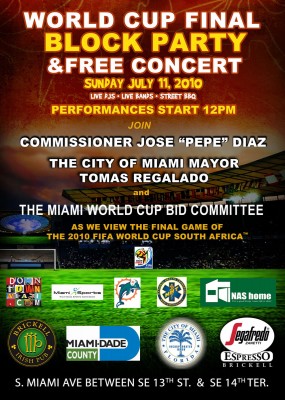 World Cup Block Party
Sunday July 11th, 12:00pm
Segafredo Brickell & Brickell Irish Pub
South Miami Avenue between S.E. 13th Street and S.E. 14th Terrace in Brickell
www.sze-miami.com
Join Segafredo Brickell and Brickell Irish Pub for the biggest World Cup viewing party in Miami history this Sunday, July 11th at 12:00pm, along with Commissioner Jose "Pepe" Diaz, Chairman of Miami's FIFA World Cup™ bid effort, City of Miami Mayor Tomas Regalado, and the Miami World Cup Bid Committee.
This will be biggest Block Party in Miami history to watch the final battle between Spain and Netherlands. There will be Giant Led Screens, celebrity appearances, DJs, multiple bars, street BBQ, and more. A Free concert with Surprise musical performances will begin at 12:00pm (noon)on a massive main stage as we close off South Miami Ave between S.E. 13th Street and S.E. 14th Terrace
The event will be covered by the major television networks and will be broadcasted via satellite straight to Johannesburg. Let's show the entire World that the "Game is in Miami", and that we deserve to be the hosts of the next World Cup in 21018/2022!
Make sure to follow us on Twitter for up to the minute instant updates from the Block Party:
www.twitter.com/segafredobrkl
www.twitter.com/brickellirishpub