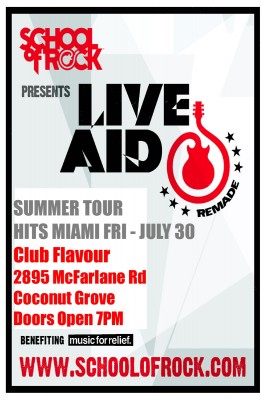 2010 Live-Aid Remade School of Rock Charity Event
July 30th, 2010, 7PM
Club Flavour
28985 McFarlane Road
Coconut Grove, FL
Website
School of Rock presents Live Aid Remade. A tribute to the historic 1985 concert/fundraiser that took place in London and Philadelphia, the show will feature selections from the Woodstock of the 80's as it came to be known – that have truly stood the test the time.
How big was Live Aid? How about 70,000 + people in London and just under 100,000 people in Philadelphia big? How about big enough for Led Zeppelin to re-form? How about big enough that Mick Jagger performed and didn't even headline? How big is that? The word is global.
Global. As in, Live Aid was a global jukebox where U2 and Madonna could rub shoulders with The Beach Boys and The Four Tops. Where Judas Priest could go on directly after Crosby, Stills, & Nash and Run DMC and Black Sabbath could play back to back. Where 80's one-hit wonders like Billy Ocean + Rick Springfield could share the stage with Keith Richards and Tina Turner. Simply put, it was where musicians could put aside their egos and play for the enjoyment and the betterment of others.
I still can't think of a better reason to rock. We hope you feel the same.
The 2010 Tour will hit Miami Friday, July 30th and will feature one of our own Miami School of Rock student graduate, Chris Bromley, on guitar.
Tickets for this event are available online.
Come out and support this great cause.