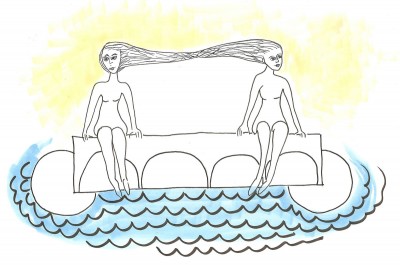 Miami Premier of "Two Islands: The Jewish Nun and Island Blogosphere"
Wednesday, July 14, 2010
Thursday, July 15, 2010, 7:00 p.m.
Cocktails begin at 7 pm – Curtain Rises at 8:00 p.m. The tickets are $15.00
GAB Studio
105 Northwest 23rd Street
Miami, Florida 33127
ISLAND BLOGOSPHERE – By Vanessa Garcia
Performed by Nicole and Vanessa Garcia
Directed by Vanessa Garcia & Wendy White
THE JEWISH NUN – By Wendy White
Performed by Casey Dressler
Directed by Wendy White & Vanessa Garcia
Be the first in Miami to see Two Islands: The Jewish Nun and Island Blogosphere at GAB Studio – the heart of the Wynwood Art District. The Miami performances are special benefit performances to raise funds for the actors' travel expenses and their stay in Scotland as they represent the United States, and South Florida specifically.
www.newlightgallery.org and www.thekrane.com
Please call the Box office phone number: 954-829-0638 for seat reservations.
Babes & Blogs From Manhattan to Havana
New Light Foundation and Krane, Inc Present Two Islands: The Jewish Nun and Island Blogosphere
PREMIERING IN MIAMI BEFORE GOING TO NYC AND SCOTLAND
Wendy White of the New Light Foundation, Inc. www.newlightgallery.org and Vanessa Garcia of The Krane, Inc. www.thekrane.com are proud to present a performance of their new play Two Islands consisting of two one-acts entitled Island Blogosphere and The Jewish Nun.
From the time of the Odyssey, writers have been exploring the idea of the "island" in relation to humanity. Here, we have two contemporary playwrights using an age-old technique in a new world. The two pieces (The Jewish Nun by Wendy White and Island Blogosphere by Vanessa Garcia) are connected by a walking bridge that the directors will take the audience across, so to speak.
These plays show the worlds of one Jewish-American woman; one Cuban-American. These two shows are the stories of culture clashes; the world of outsiders; and the women who strive to find themselves as they delve into the pulsing life of the two particular islands that made them: Manhattan & Cuba.
In Island Blogosphere, two sisters virtually befriend Cuban bloggers, when they are not permitted to enter the island physically due to politics and family conflicts.
In The Jewish Nun, a nineteen year old girl moves from celibacy to free-love, juxtaposing the racy lifestyle of NYC and Manhattan against a self-imposed purity.
More information about the writers and directors can be found on their websites: www.vanessagarcia.org and www.newlightgallery.org.
In 2009, New Light Foundation, Inc. represented the United States as Art ambassadors by the 1-2-3 Kinderlachen e.V. foundation of Rottenburg, Germany by hosting the international "Global Gallery" project (www.123kinderlachen.org). During the course of this important project, the "world's biggest canvas" emerged; painted by children – transcending all borders and conflicts.
Krane, Inc. was named Best of the City 2010 by Miami Magazine, as the best up and coming theatre company in town. http://vanessagarcia.org/press/theatrical-chairs.php
Together, New Light Foundation, and Krane, inc. have won numerous awards around the globe, have performed everywhere from Amsterdam to Arkansas; from Miami to New York City; and have tackled subjects related to women, love, politics, and Shakespeare. Here are two companies that push the envelope with every production.
Two Islands has an exciting road ahead as it will show in New York at 59e59 (www.59e59.org) and, later this summer, have its international debut at the upcoming Edinburgh Fringe Festival in Scotland this August 2010.
The proceeds raised from the Miami Performance will go towards getting the troupe to Scotland; covering the actors' travel expenses and their stay in Scotland as they represent the United States, and South Florida specifically.
"Two Islands is truly a dream come true – an opportunity to explore a lifetime of romantic temptations and transform it all to the written word – it is truly an honor and a constant source of inspiration to share this creative adventure with the very talented playwright and artist, Vanessa Garcia and our charismatic actors Casey Dressler and Nicole Garcia – what a dynamic team we are!" says Wendy White, Playwright, Director and President of the New Light Foundation, Inc.
"I feel like taking theatre to the global level is part of our mission, starting at home, and moving abroad really showcases what's here in Miami to the world. It's important. It's also important because it creates an exchange. I'm sure we'll meet people abroad that we can then bring to Miami to further culturally infuse the local community – what we're doing is starting a conversation," says Vanessa Garcia, Founding Director of The Krane, Inc.