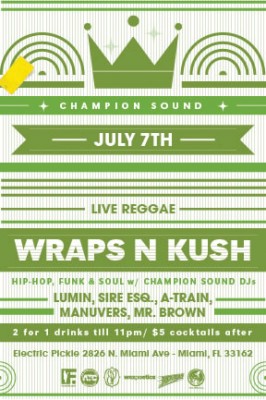 Champion Sound This Week
Live Reggae W/ Hip Hop, Funk, Soul On The Side
Wednesday, July 7th
@ The Electric Pickle
Doors at 10pm
Live Reggae
Wraps-N-Kush
w/ Champion Sound Djs
✪ Lumin
✪ Sire Esq.
Drink Specials
->>>>>>> 2-4-1 Drinks from 9-11p<<<<<<<-
$5 cocktails after
..more info and goodies
Supported By:
Public Wizard: http://www.PublicWizardInc.com/
Frank 151: http://www.Frank151.com/
Wax Poetics: http://www.WaxPoetics.com/
ATC: http://www.Atcmia.com/
More on Wraps-N-Kush…
Wraps N' Kush, a Roots Reggae Rock band with a unique soul penetrating sound, is the main source of live instrumentation for the artists on the JahGydeYah Records roster. The band comprises of Grammy nominated producer Steven "Purpose" Chung on bass, Vincent "Vinnie" Hamilton on keyboards, Juan "Juanito" Ruiz, Eduardo "Eddie" Gross on guitars, Kwame Wallen on drums, and Gamal "Fada G" Clunis on percussions.