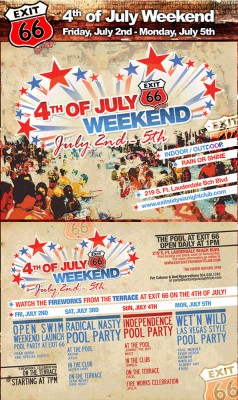 Come see for yourself why it is better on the beach during the Independence Day Wet & Wild Weekend at The Pool @ Exit 66. Gather round the Chiki-Tiki Pool Bar, or reserve one of our ten semi-private poolside cabanas for up to 10 friends and immerse yourself in Exit 66s new day life experience.
Enjoy fresh food from the grill and 5 for $15 bucket specials on Corona and 5 for $12 bucket specials on Presidente and Miller Lite all weekend long. 21 and over.
Sunday, July 4: The Pool at Exit 66 is the place to be on the 4th of July for the ultimate Sunday Funday experience from 1pm to 8pm. Enjoy the best in Open Format from DJ Johnny the Boy and M Dot at the Pool, and DJ Jewels in the Club before heading up to the Blu Swallow Lounge and Terrace to listen to DJ J. Felix for our Fort Lauderdale Beach Fireworks viewing party beginning at 8pm. Fireworks begin at 9pm with the party continuing until the last sparkler fades.
The entrance to The Pool @ Exit 66 is located at 222 Almond Avenue, just 1 block west of AIA and a ½ block north of Las Olas Boulevard. For information or to make cabana or bottle reservations, call our VIP Services line at (954) 830-1245 or email Party@ExitSixtySixNightclub.com.
219 S. Fort Lauderdale Beach Blvd.
Fort Lauderdale, FL 33301