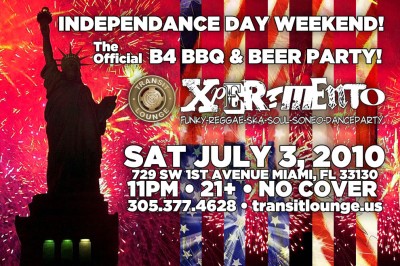 Xperimento LIVE | Transit Lounge
Saturday July 3, 2010, Doors open 10pm
Transit Lounge
729 Southwest 1st Avenue, Miami, FL 33130
transitlounge.us
www.xperimento.com
It's the official B4 BBQ & BEER PARTY!
Transit Lounge presents:
Xperimento
These Grammy Nominated artists have formed a fresh new band and sound, living up to their name, Xperimento. They gather members that have performed with world recognized artists and blend together as one. They have jammed with artist like Prince and Jon Secada, to name a few and are already receiving rave reviews from media nationwide. With members from Puerto Rico, Argentina, Venezuela and Peru, mixing traditional sounds with the music of tomorrow this band brings the past back with a sophisticated touch. Xperimenting and combining sounds like merengue, ska, kuduru and jazz, these musicians are breaking barriers and creating a totally different genre further solidifying their hometowns in South Florida as a mecca of musical diversity. Already being solicited to perform across the globe in Europe with their live show that's unlike any other, it will be only a matter of time before this band will reach every major continent and the hearts of everyone.