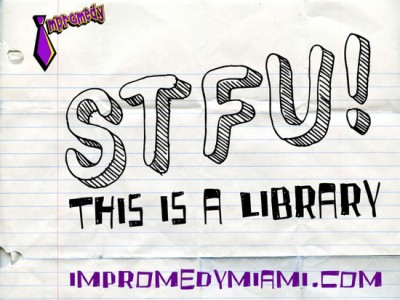 STFU! This is a Library
July 2, 9, & 16, 8:30pm
Roxy Performing Arts Center
1645 SW 107th Ave.
Miami, FL 33165
An All-New Sketch & Improv Show from South Florida's Premiere Comedy Company
Instead of heading to the movies this weekend, why not cuddle up with a good book? Wait. Scratch that. Instead of cuddling up with a good book this weekend, why not head to Impromedy's all-new sketch and improv comedy show STFU! This is a Library at the Roxy Performing Arts Center?
STFU! is a unique and uproariously funny blend of original sketch (think Saturday Night Live, Mad TV) and improv (think Who's Line is it Anyway?) comedy by South Florida's top improv performers. So what is improv comedy? It's comedy made up right before your very eyes. No scripts, no memorized dialogue, no rehearsed scenes: just crazy ideas, tons of energy, and your suggestions. No audience, no funny!
Watch in amazement as Impromedy players (who have trained at The Second City, Upright Citizens Brigade, and Improv Olympic) bring audience suggestions to life on stage and answer their most burning literary queries, like, "What would happen if Green Eggs and Ham was an action movie?" STFU! takes audience members on a hysterical tour of the library, if your librarians were Tina Fey and Dane Cook.
So, if you wish you read the classics in high school instead of picking up the Cliff Notes… Or if you hate it when your boss references famous literary characters that go right over your head ("Son, you remind me of a young Captain Ahab.")… Or if your personal library consists solely of the film adaptations of Nicholas Sparks' novels… Don't miss STFU! This is a Library!* We can't promise you'll learn anything, but you sure will have fun!
*STFU! This is a Library is not a legitimate alternative to summer school/SAT prep classes/or reading the newspaper.