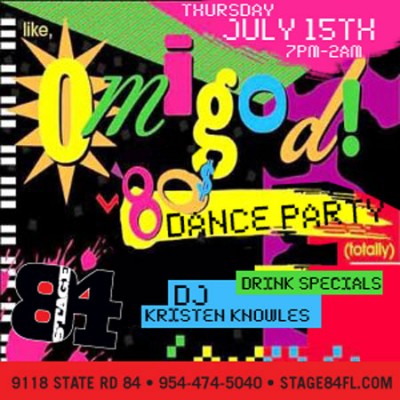 Like, Omigod! It's an '80s Dance party at STAGE 84
July 15th, 7PM-2AM
STAGE 84 (Music Cafe)
9118 W State Road 84 (I-595 & Pine Ridge Dr)
Fort Lauderdale, FL 33321
stage84fl.com
Remember about the decade of big hair and leg warmers? It's that time again for an 80s dance party. Your favorite 80s movies and the hottest tunes from the 80s.
DJ Kristen Knowles joins us spinning 80's pop, rock, one hit wonders, love songs and memorable movie hits. Digging deeper for those long lost treasures to keep it fun and exciting, there's nothing like hearing an awesome song that you've forgotten with time.
Well also have some of your favorite games when you need to take a break from dancing.
We will hold a costume contest so be prepared with all the elements of a rocking outfit.
Here are some tips: www.liketotally80s.com/80s-party-idea.html
Food & Drink Specials
OFFICIAL HOLY MACKEREL TAPHOUSE