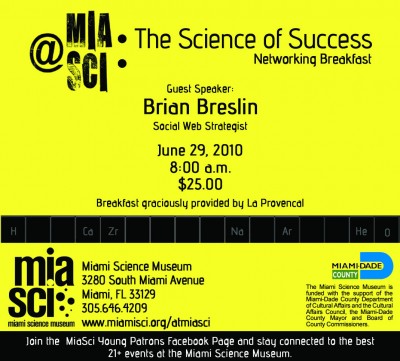 @MiaSci: The Science of Success Networking Breakfast
with Special Guest Speaker Brian Breslin
Tuesday, June 29, 2010 8-10 a.m. (Doors open at 7:30 a.m.)
$25.00, including breakfast. Parking is free.
Miami Science Museum 3280 South Miami Avenue Miami, FL 33129
MiaSci Young Patrons and Special Guest Speaker Brian Breslin.
Brian Breslin will be doing a quick introduction into what Social Media is, is not, and what it can and cannot do for your business. The presentation will be largely hands on with an emphasis on audience interaction to give attendees tangible tools that make sense for their business. Brian is an internet entrepreneur, technology enthusiast, web strategist, and all-around geek. As founder of Infinimedia, Inc, a multinational web software development and consulting firm, Brian has been worked with a multitude of companies ranging from Fortune 100 to Fortune 10000 firms helping them with their online strategy. While at Infinimedia, Brian launched StartPR, an online brand monitoring & management tool, and Twitbin, one of the earliest Twitter clients. Brian has been an active tech community evangelist in South Florida for several years having started RefreshMiami, the largest tech group in Miami, and been actively involved in Barcamp, Wordcamp, Mobile Monday Miami, and a number of other local groups & events. Brian speaks regularly on the subjects of social networks, social media, web strategy, and community building.
ABOUT MIAMI SCIENCE MUSEUM: The Miami Science Museum aims to make a difference in people's lives by inspiring them to appreciate the impact that science and technology can have on every facet of our world. For over 60 years, MiaSci's award-winning educational programs, family-focused exhibits, historic planetarium, and rehabilitative Wildlife Center and Clinic have enriched locals and tourists alike. In 2014, the legacy continues, as MiaSci will be moving to a new world-class, state-of-the-art facility designed by Grimshaw Architects in the heart of downtown Miami. The Museum will remain operational at its current location on South Miami Avenue until completion of the new building. MiaSci is accredited by the American Association of Museums and is an affiliate of the Smithsonian Institution. For more information about the Museum and our New Museum project, visit www.miasci.org/blog or call (305) 646-4200. Miami Science Museum is located at 3280 South Miami Avenue, Miami, FL 33129. The Museum is open every day from 10:00 am until 6:00 pm. Admission is free for MiaSci members and children under 3; students (with valid ID), seniors (62+) and children 3 – 12, $10.95; adults are $14.95. Parking is free. Miami Science Museum is funded with the support of the Miami-Dade County Department of Cultural Affairs and the Cultural Affairs Council, the Miami-Dade County Mayor and Board of County Commissioners.