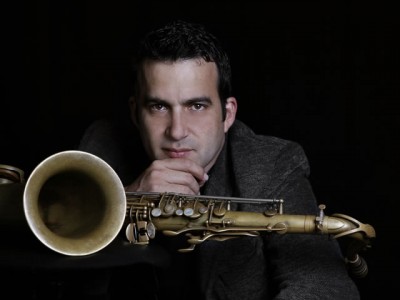 KCC Productions and the Deauville Jazz Club present
Felipe Lamoglia's Cuban Project
with special guests Ernesto Simpson and Armando Gola
Thursday, June 24, from 9 PM – midnight
6701 Collins Avenue, Miami Beach
$10 admission
Felipe Lamoglia is a Cuban saxophonist, composer, and arranger, born in Holguin, Cuba. At the age of 18 a scholarship came from the prestigious Superior Institute of Arts (ISA), the most important University of Music in Latin America. His big professional opportunity came at age of 18, being hired to play with NG La Banda, one of the most acclaimed Cuban orchestras ever. Felipe funded his own Orchestra called Oni-Ache, traveling to Sao Paulo, Brazil in 1992 for a musical exchange program with the University of Sao Paulo and went on to live in Brazil for seven years.
It was later, in 2004 when Felipe joined the GRAMMY Award-winner Gonzalo Rubalcaba, recording his GRAMMY Award-nominated album "Paseo", released by the prestigious Blue Note Records. Around this time he kept on performing for two years with the New Cuban Quartet all over the world. In 2006 he arranged and played on Ignacio Berroa's new album "Codes", also released by Blue Note Records and nominated for a GRAMMY as well. This led to performing with Mr. Berroa's quartet in diverse tours.
Recently Felipe worked as a producer in Arturo Sandoval's latest album "Rumba Palace", which won a GRAMMY Award in 2008, being in charge of all the arrangement and composing. By the end of 2007 his first solo album "Dimensions", recorded in Brazil, was released. This project incorporates his Afro-Cuban roots with strong influences of Jazz and Brazilian music. "I can assure you no other place in the world deserves my solo debut more. I really hope that everyone who in one way or another has followed and supported my music through all these years can enjoy this album and receive my sincere thanks through all my music."
Special Guest: Ernesto Simpson
Drummer Ernesto Simpson has performed or shared stage with personalities like Carmen McRae, Dizzy Gillespie, Wynton Marsalis, Mike Stern, Michel Legrand, Herbie Hancock, Michael Brecker, George Benson, Salif Keita, Tito Puente, Giovanni Hidalgo, Arturo Sandoval, Paquito D' Rivera, Ray Barreto, Brian Lynch and Gonzalo Rubalcaba, just to name a few. He also plays for the famous Cameroonian song-writter, singer and bass player, Richard Bona.
Special Guest: Armando Gola
Bassist Armando Gola has appeared on two GRAMMY® nominated 'Blue Note' label albums, 'PASEO' and 'CODES', and on ARTURO SANDOVAL'S GRAMMY® Award Winning album, 'RUMBA PALACE'. He has played or recorded with such luminaries as Hector Martignon, Eldar Djangirov, Francisco Céspedes, Raúl di Blasio, Arturo Sandoval, Felipe Lamoglia, Jennifer López, Luis Enrique, Marisela Verena, Alejandro Sanz, Mayra Casales, and Ignacio Berroa
KCC Productions
Deauville Jazz Club