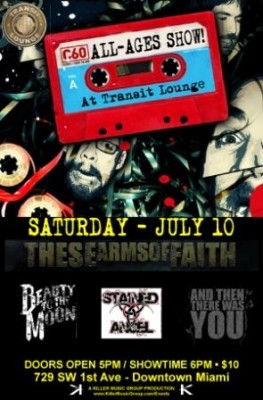 Rock Show
7/10/10, 5 to 9 p.m.
Transit Lounge
729 SW 1 Avenue, Miami, FL
http://bit.ly/AARockShow
This show is going to be pretty incredible. Four of the best bands from around Florida playing original rock to rock your world!
Be sure to catch them live now before they start playing huge concerts!
Featuring:
These Arms of Faith
Beauty To The Moon
Stained Angel
And Then There Was You
ONE SHOW ONLY
Doors Open at 5PM
All ages welcome!
$10