Join Soul Of Miami for an evening of business networking.
Secret Wednesdays
Chop House Miami
300 S. Biscayne Blvd
www.chophousemiami.com
Business Happy Hour prices starting at 5:00pm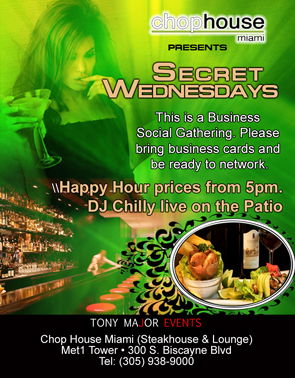 Produced and presented by Tony Major Events, Inc. and supported by the Soul Of Miami, "Secret Wednesdays" takes place at the Chop House Miami every Wednesday from 5:00pm to 11:00pm.
"Secret Wednesdays" is a business social network party, with main clientele being business people, from enterpreneurs to executives and government workers.
After networking, everyone is encouraged to have dinner and/or socialize at the bar area.
Tony Major Events, Inc. presents the network game to achieve the same results as speed networking.
This event draws on average of 150- 200 people every week.
The Soul Of Miami is a co-promoter for this event. We invite you to come by and join us for some networking and fun.
Located in the heart of downtown Miami, and right accross the street of Bicayne Bay, Chop House Miami not only provides the convenient and easy accesss but also beautiful views, making this location excellent for cocktail parties and outdoor dining events.